What We Do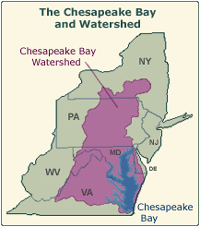 The Chesapeake Bay String of Pearls Project honors those who have preserved land throughout the Chesapeake Bay watershed. These pieces of land, which we call "Pearls," are preserved by donating land to public or private conservation agencies, or through land conservation easements. At our ceremonies, honorees are awarded citations from political entities such as the Governor, state legislature, and their respective county council. Oftentimes, representatives from those bodies are present to personally sign the citations. Most significantly, honorees create a permanent public documentation of their generosity by adding their signature to the description of their "Pearl" in the Register of Pearls. This register is kept as a publicly viewable document at the Circuit Court on Church Circle in Annapolis, Maryland.
Why We Do It
The Chesapeake Bay Watershed is composed of over 64,000 square miles of land throughout much of Maryland and Virginia, parts of Delaware, New York, Pennsylvania, and West Virginia, and all of the District of Columbia. Water draining from the watershed into the Chesapeake Bay and the Bay's several tributaries affects more than 17 million people and over 3,600 species of plants and animals. Sediment from developments and chemical runoff from various residential, agricultural and industrial sources threaten the aquatic life within the Bay.  With one of the highest land-to-water ratios of any costal water body, there is a lot of land to be preserved if the waters and the life they support are to be protected.
Like knots in a mesh net, "Pearls" tie together the assorted patches and corridors of undeveloped land, thus keeping the landscape intact. Achieving synergy between land, water, wildlife and people is a challenge for this region, but one that must be met for the wellbeing of our ecosystem. We believe the generosity that allows for such socially responsible and ecologically necessary preservation deserves to be recognized, and must be encouraged.
Our Partners in Preservation
The first Pearl ceremony was held in 2009, and we have held a ceremony at least once a year since then. We often partner with local government agencies and environmentally focused organizations such as: the Eastern Shore Land Conservancy, Riverkeepers® of the Magothy, Patuxent, Severn, South, and West/Rhode Rivers, the Maryland Environmental Trust, and Scenic Rivers Land Trust. Beginning in 2013, we began to partner with local artists and artistic organizations, such as Maryland Fine Arts, in order to give the public a visual understanding of the beauty and diversity of the Pearls, and to illustrate the necessity of preservation.
We are always eager to find new partners in our efforts, or hear of new Pearls we can honor.  For more information, or to volunteer, please email us at contact@stringofpearls.org.