2013
On June 20th, String of Pearls once again partnered with the Eastern Shore Land Conservancy to honor land owners in Dorchester and Talbot counties.  As part of the celebration of conservation, local Plein Air artists, selected by the renowned Lee Boynton, painted each pearl, and a few previous pearls. The paintings were on display during the ceremony, then made part of a scavenger hunt, and once again exhibited at the Circle Gallery.  Program Booklet
2012
In May 2012, String of Pearls, together with the Eastern Shore Land Conservancy, honored land owners in Cecil, Kent, Queen Anne's counties on Maryland's Eastern Shore.  Program Booklet
In September 2012, String of Pearls, the Maryland Environmental Trust, and Scenic Rivers Land Trust honored more Anne Arundel County land owners and a land owner from Howard county.  Program Booklet
2011
In 2011, String of Pearls, together with the Eastern Shore Land Conservancy, honored land owners in Caroline and Talbot Counties, Maryland, who preserved lands in four watersheds: Tuckahoe, Choptank, Robbins, Wye, and the Bay itself.  Program Booklet
2010
In 2010, String of Pearls honored land owners in Anne Arundel County nominated by Riverkeepers® of the Magothy, Patuxent, Severn, South, and West/Rhode Rivers. Program Booklet
2009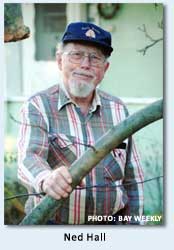 Gambrills Farm — Ned & Alice Hall
On June 30, 2009, Edward "Ned" Hall and his wife, Alice, became the first people to be honored for preserving a Chesapeake "Pearl."
Ned, a life-long resident of Anne Arundel County whose family came to the area in 1695, placed their 70-acre tree farm in Gambrills under conservation easement, giving the property's development rights to a land trust.
Their farm will forever remain in its natural state.
Read more in Bay Weekly online. | Read a previous interview with Ned Hall in Bay Weeklyonline.