The Capital  Tuesday March 8, 2016
Chesapeake Bay String of Pearls honors property owners who preserve land for Future Generations
by EB Ferguson III
'If you protect the land, you protect the water'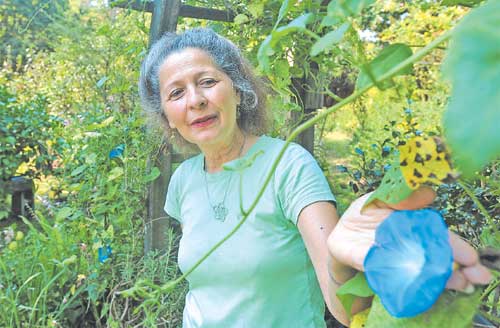 Maria Price-Nowakowski and her husband, Martin, couldn't imagine their Willow Oak Flower
and Herb Farm being anything other than a farm. They were among area property owners
honored this week for their decision to conserve their lands through the String of Pearls program.
Photos by Joshua McKerrow — The Capital
By PAMELA WOOD, Staff Writer
Capital Gazette Communications
Published 09/24/10
Protecting land from development is often a quiet act, negotiating with lawyers and signing important paperwork.
Owners if six properties, however, earned public praise this week for making the decision to conserve their lands — giving up the opportunity to make money through development, in favor of protecting the environment and the Chesapeake Bay.
The owners of farms, undeveloped lands, forests and a marsh are among the latest honorees from the fledgling Chesapeake Bay String of Pearls Project.
Conceived by Crofton resident Dick Lahn, the String of Pearls program aims to shine a light on the often-selfless actions of conservation-minded property owners.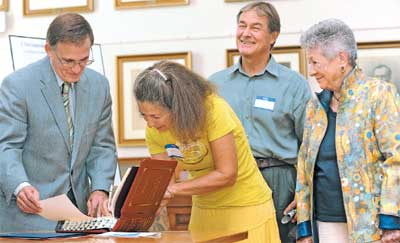 << Clerk of the Court Robert Duckworth has Maria Price-Nowakowski, with Martin Nowakowski and Aphrodite Poulos, sign the register declaring their Willow Oak Flower and Herb Farm in Severn a protected property.
"We just want to honor people, create an incentive hopefully for conserving land, send a message that it's the right thing to do," Lahn said at a ceremony Wednesday in the Circuit Court building in Annapolis.
Each property owner signed a special registry that's housed in the courthouse. They joined the late Ned Hall, who was the first String of Pearls honoree last year. Lahn has visions of expanding his String of Pearls honorees to the rest of Maryland and, eventually, the rest of the vast Chesapeake Bay watershed.
"The courthouse is responsible for many registries and I'm proud to have this one at the courthouse," said Clerk of the Court Robert Duckworth, who is a member of the String of Pearls board of directors.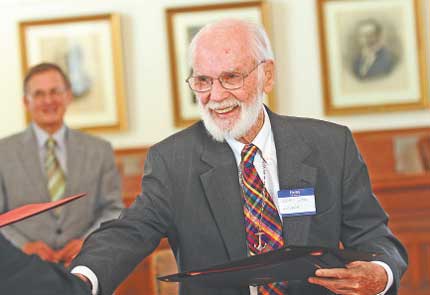 Above: Walter "Jake" Jacobs is congratulated for placing a conservation easement
onto his property Kurrle Knoll and adding it to the String of Pearls Project.
Below: Director of the String of Pearls Project Dick Lahn speaks at the ceremony to
honor and register preserved watershed properties.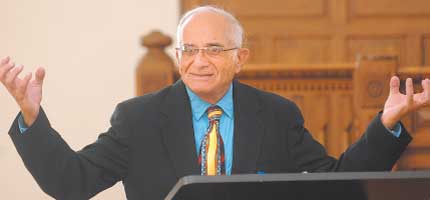 The honored property owners are scattered throughout the county, in the watersheds of five different rivers. Some were preserved years ago, others finished the paperwork only recently. Most are private lands, but some are open to the public.
Honoree Betsy Kirkpatrick-Howat said her family never even considered developing their 575-acre farm. Instead, they sold the Contee Farms to the nearby Smithsonian Environmental Research Center in Edgewater.
SERC offers public tours of the land and county archaeologists have been studying the property, as it has artifacts from hundreds of years of farming.
"It was very important to us that it could be shared, because it truly is a special property," Kirkpatrick-Howat said.
Likewise, Maria Price-Nowakowski and Martin Nowakowski couldn't imagine their Willow Oak Flower and Herb Farm being anything but a farm.
Martin Nowakowski said his family farm just up the road is now a housing subdivision. They don't want the same to happen to Willow Oak.
"It's a labor of love," Maria Price- Nowakowski said. "I grew up there." Here's a look at the String of Pearls honorees:
Hidden View Farm: Owners Michael Pistole and Richard Bradshaw put a conservation easement on 61 acres of their Crownsville farm. The farm is part of the South River Greenway, a major effort to prevent development in the headwaters of the river.
Contee Farms: Kirkpatrick-Howat's family has owned 575 acres on the Rhode River since 1917. The family decided to sell the farms to the nearby Smithsonian Environmental Research Center so it could be preserved and studied by archaeologists.
Kurrle Knoll: Walter "Jake" Jacobs, who is well-known in local environmental circles, put an easement on his 3-acre wooded property in Arnold back in 1993. His conservation easement was the first one for the Magothy River Land Trust, which now has protected 550 acres of land around the river.
Patuxent Preserve Homeowners Association: The builder of this 39-home community in Gambrills used a low-lying area for stormwater retention and wildlife. At more than 20 acres, the area includes wetlands and beaver ponds. A nearby meadow is mowed strategically to provide habitat for wildlife.
Turkey Point Island Marsh: When Phyllis Stonebrook and David DeWitt bought a home at Turkey Point at Selby Bay on the South River, they also bought a marsh across the street, fearing it would one day be developed into houses. After DeWitt died and Stonebrook fell ill, the property was donated to the homeowners association. Stonebrook died recently, but a special String of Pearls ceremony was held for her earlier this month.
Willow Oak Flower and Herb Farm: The Poulos and Nowakowski family signed an easement on their Severn property in 1990. The Nowakowskis don't use harsh chemicals on their farm, and have adopted many organic techniques. They teach workshops on eco-friendly gardening.
In addition to signing the String of Pearls register, the honorees were bestowed with armfuls of certificates and citations from elected officials.
Alan Friedman, the county's director of government relations, represented County Executive John R. Leopold.
And at the state level, House Speaker Michael E. Busch, D-Annapolis, praised the honorees. He said land preservation is important, because natural lands help keep the Chesapeake Bay clean and healthy.
"If you protect the land, you protect the water," he said.
Posted with permission of Capital Gazette Communications